Valley High School
Class Of 1964
In Memory
Neomi Lopez (Pierce)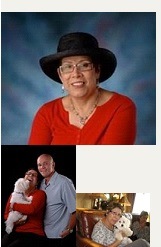 Neomi Pierce
Neomi Pierce of Prosper, Texas went to be with her Lord on Monday, November 10, 2014 after a lengthy battle with cancer.

Neomi is survived by the love of her life, her loving husband of 35 years, Les Pierce of Prosper; her mother, Margaret Lopez of Albuquerque; her son, Duane and two grandsons, Anthony and Ethan of Albuquerque; her sister, Jeanette (Danny) from Albuquerque; her sister, Linda from California; two nephews, Tony and Jimmy from California; her niece, Jamie and great-nephew, Marcus of Albuquerque; her brother-in-law, Kerry (Donna), two nephews, Corey (Sydney) and Colton and her niece, Krysten from Des Moines, Iowa; her sister-in-law, Courtney (Darren) from Seattle, WA; and her mother-in-law, Bobbi from Albuquerque. She was predeceased by her father, Albert. Also surviving is her "baby" and constant companion, Tiger Woods Pierce.

She graduated from Valley high school in Albuquerque and had a long career with Pioneer Wear followed by a lengthy career as a small business owner.

A devoted member of the Frisco Bible Church for 16 years, she was active in the Bible Study Group and the Birthday Lunch Group.

Her gift for hospitality and open door policy made everyone welcome to her home. A wonderful friend to everyone she met. She was loved by all who knew her.

Rest in peace, Neomi. Your classmates remember and honor you.