Valley High School
Class Of 1964
In Memory
Jerry Chavarria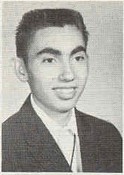 DOB 8/12/45,
DOD 11/16/09 at Alamogordo
Served US Army
Jerry was born on August 12, 1945 and passed away on Monday, November 16, 2009.
Jerry was a resident of Alamogordo, New Mexico.
He served in the U. S. Army and the NM National Guard.
Jerry was married to Virginia.
Memorial services will be conducted at 10 a.m., Friday, November 20, 2009 in the Alamogordo Funeral Home Chapel with Naya Benitez officiating. Cremation will take place locally at PCS.