Valley High School
Class Of 1964
Official Website for VHS Class of 64
Updated November 8, 2022
Veterans Day Announcement
The NEW VHS Veterans Memorial will be dedicated and presented to the public.
All Valley graduates and friends are welcome and invited to attend the ceremony at 1pm on Veterans Day. Please come and be a part of a new memorial honoring the VHS students who were killed in Vietnam or Iraq.
The VHS Veterans Memorial began years ago in the thoughts of Eli Padilla (Class of '65) and finally with the help, contributions and efforts of many people, it has become a reality. Join us for the official dedication on November 11, 2022.
It's not a school day, so there will be plenty of room in the VHS parking lot north of the school. Come and remember the classmates who made the final sacrifice for their nation.
The new VHS Veterans Memorial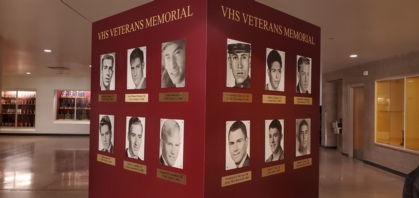 Years ago, a VHS classmate envisioned a unique memorial to the Vikings we lost during the Vietnam war. Eli Padilla (Class of '65) felt there should be a permanent reminder of the loss we share from that now long ago conflict. Our classmates should not be just names in a book or on a wall in DC. He wanted to remind our present day students of the cost we pay to fight for liberty (ours and others) in a hard world.
Many of us remember Eli as a star basketball player along side our own classmates, including Tony Scarton our class president. Eli went on to become a PhD professor at UNM; but he remembers well the disruption of our lives by this unpopular war (a redundancy, to be sure).
Nonetheless, many were called to serve and far too many didn't make it home. Or they came home forever changed; in ways today's students can't even imagine.
Shouldn't we remind and make personal the sacrifices we must pay, to have the freedoms we take for granted... in a world far less free than the one we share here?
Remember those carefree days in school? We had no idea, did we... How the world would change us. How it forever changed these young heroes, unwilling or not.
To learn more about this special monument, come join us on Friday, November 11, 2022 at 1pm in the VHS gymnasium lobby. It's not a school day, so you can park in the old parking lot North of the school and be with us to honor those who serve, on Veteran's day.
To learn more about the details of Eli's work (and others, including Glenn Fellows Architect from our class) Click on this link and learn and appreciate (and maybe even donate to the special Scolarship fund that Eli started) Click here...
And to our Veterans, where ever they are... today and every day: Thank you for your service.
If you missed our Veterans Tribute, you can find it here:
*************************************
Updated July 17, 2022
---
We Are Beginning To Plan the 60th Reunion!
---
Dear Classmates: We're starting on the plans for our 60th Reunion but we need your assistance. Please help us by filling out the brief survey we are sending out. You can reach that survey by clicking on the rectangle at the left side of your screen that says "60th Class Reunion Survey (#1)".
Even if you don't plan to come, your answers to the Survey question are very important to us, so please fill it out and don't forget to click on 'Submit' at the bottom of the Survey. Thanks for your help! We'll be publishing results in November.
Our Website has had 154,354 visits since we started up in September 2012