Valley High School
Class Of 1964
In Memory
Mike Ferguson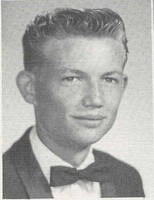 FERGUSON -- Donald Michael (Mike) Ferguson, 63, went to be with his Lord and Savior on November 22, 2009. He was a resident of Anthony NM, born in Salinas, CA and was raised in Albuquerque, NM. He graduated from Valley High School in 1964 and later served in the U.S Marine Corps and U.S. Army.
He is a decorated Vietnam War Veteran. He was very proud to have faithfully served his country in the two branches of the military and continued his patriotism for many more years. He was a member of the American Legion, Vietnam Veterans of America, a Life Member of the Veterans of Foreign Wars (VFW) and Disabled American Veterans. He was a very active member of the VFW until he was unable to participate due to his long illness.
Mike was a man of many trades and talents. During his life he was a welder, carpenter, truck driver and eventually a business owner. He was a God-fearing man and a member of Coronado Baptist Church.
He is survived by his wife, Vickie Ferguson; and sons, David Ferguson of Albuquerque, Daryl Ferguson and Dwayne Ferguson of Marshalltown, IA; daughters, Dawn Templeton of Marshalltown, IA, and Nicki Loflin of El Paso, TX; granddaughter, Haleigh Ferguson; grandsons, Zachery Ferguson, Brock Templeton, Beau Templeton, Dusty Ferguson, Dawson Ferguson; sister, Beth Black; Brothers, Ronald Ferguson, Thomas Ferguson, Keith Ferguson, and Billy Ferguson and numerous extended family members.
Mike will be missed dearly by all who had the privilege to know him. Visitation will be held from 3:00-8:00 p.m. on Wednesday, November 25, 2009 at LaPaz Funeral Home, 3331 Alameda Ave. El Paso, TX. Church Service will be held Friday, November 27, 2009 at 11:00 a.m. and burial will take place at Ft. Bliss Nat. Cemetery at 1:00 p.m
http://obits.abqjournal.com/obits/show/201115