Valley High School
Class Of 1964
In Memory
O K Odie Harris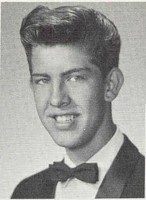 HARRIS -- O.K. Harris, Sculptor, died June 8, 2008. He was husband, father, grandfather, mentor and friend. His life was art. In lieu of flowers, please support the arts, each in your own way. The family also wishes to thank the staff at the VA Hospital of Albuquerque for the exceptional care that was provided to O.K. One last opening for O.K. will be held at Art is OK Gallery, 3301 Menaul NE, Suite 28, Saturday, June 14, 2008, from 5:00 p.m. to 7:00 p.m. Funeral Services are entrusted to: Daniels Family Funeral Services Alameda Mortuary 9420 Fourth Street NW (505) 898-3160
Our class has many talented people including artists Odie 'OK' Harris and Bill Drexel. Sadly both of these Vikings are no longer with us, but they left behind many gifted artistic works including the 'Solar Arc' sundial that they worked on together.
Odie (as we all knew him in High School) and Bill were good friends and partners on projects and the simple beauty of this piece is still available for viewing at the 4 H Park near Menaul and 12th street. This piece was created in 1985 and was originally purchased and placed by the City of Albuquerque at the Girard and Central location. It was subsequently moved back down to the Valley where it is now on display.
If you knew Odie or Bill, or if you enjoy this piece of art, please leave a comment for our other classmates to appreciate.
As said before, we had/have many talented people in our class, and it's a special pleasure to be able to share some of their beautiful work with everyone. Rest in peace, Odie and Bill, your class remembers you.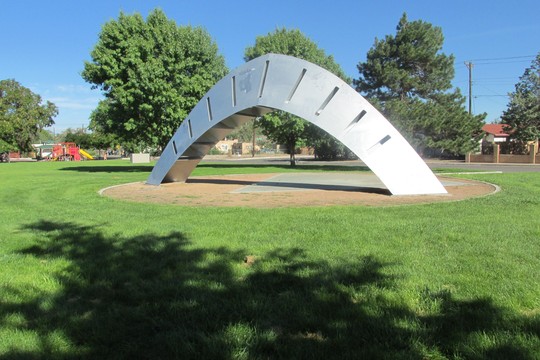 After you've read the comments on Odie's Profile, you may want to visit Bill's page