Valley High School
Class Of 1964
In Memory
Larry Culp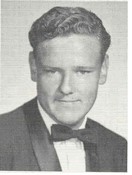 NORMAN ? Larry O. Culp, 65, of Oklahoma City, passed away Tuesday, Jan. 31, 2012, after a short but courageous battle with lymphoma.
Services will be 10 a.m. today at Primrose chapel. Interment will follow at Sunset Memorial Park.
A beloved husband, father and grandfather, Larry was born in Albuquerque, N.M., on Aug. 28, 1946, to Emora and Ruth Culp.
He entered the Army in 1964 and served three tours of duty in Vietnam as a combat engineer with distinction. After retiring in 1986, Larry worked for the state of Oklahoma?s Emergency Management Agency until his retirement in 2005.
Larry was an avid Civil War enthusiast who made yearly visits to Culp?s Hill in Gettysburg and also enjoyed Civil War re-enactments.
He enjoyed gardening, traveling and playing with his 10 grandchildren who will miss him very much. Larry was a tremendous family man who cared deeply for his wife, children and grandchildren. He always put his family first before himself and spent his life making sure his family was taken care of.
Larry was preceded in death by his parents, Emora and Ruth Culp, and his sister, Bobbie Downing.
He is survived by his wife of 44 years, Brenda; brother, Ben; four sons, David, Steven, Terry and Scott; and grandchildren Alexis, Kalista, Carson, Megan, Abigail, Haiven, Gabrielle, Selina, Emma and Caroline, whom he loved dearly.
Arrangements are trusted to the care of Primrose Funeral Service, www.primrosefuneralservice.com.
Norman Transcript, Friday, Feb. 3, 2012
http://normantranscript.com/obituaries/x991868444/Larry-O-Culp